Time to throw out the candy corn, pumpkin spice lattes, and Harley Quinn costumes- it's November! The best (and probably the most expensive) holiday hype has officially kicked off: Thanksgivmas. Are you ready for creepy Mall Santas and two-month-long renditions of Jingle Bells in every store? (Seriously, how do employees stay sane during this season?)
But neon string lights and jam-packed stores don't have to be the only sources of hype this season. Every year, trendy winter fashion is released to celebrate sweater weather and frosty nights, but if you're more into looking like an aggressive holiday fanatic, then Ugly Sweaters are exactly the clothing item you're looking for. You might laugh at the ridiculously blunt name, but these sweaters are definitely not joking about their hideousness. See for yourself! Here are some of Forever21's ugliest sweaters:
I admit, some of them have that dorky charm to them, like this gingerbread-man-esque sweater from H&M: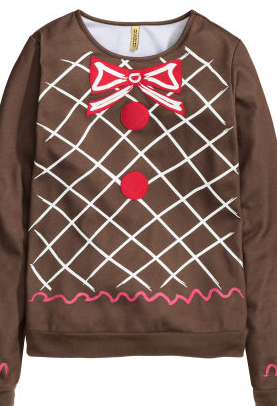 But then you come across random things like the one below. Who would ever wear this?
And if you think that these retailers' designs are crazy enough, don't venture into online shopping. From tipsyelves.com, here are some of the most interesting designs I stumbled across:
In all seriousness, this particular site isn't only spreading the ugly sweater love to their customers. For every ugly sweater bought, tipsyelves.com donates money towards charity to give outerwear for children in need. So no need to worry – your eye-searing pullover is doing good somewhere in the world. How's that for a little Holiday Cheer? Are you going to buy an ugly sweater this season?
-M.L.